Successful Cybersecurity Summit Brings 120+ Technical Leaders to Aberdeen
Durham, N.C., 01 June 2023 – A leading international organisation which sets the standard for automation welcomed over 120 training and conference delegates to Aberdeen this week.

The International Society for Automation (ISA) picked Aberdeen, Scotland as the launch venue for its Operational Technology (OT) Cybersecurity Summit given the city's strategic position in the energy sector.

Following two days focusing on cybersecurity training, a two-day conference programme at the city's Ardoe House Hotel & Spa featured a welcome from Aberdeen Lord Provost Dr David Cameron plus addresses from keynote speakers Cheri Caddy, Deputy Director at the US Office of the National Cyber Director and Megan Samford, VP, Chief Product Security Officer – Energy Management, Schneider Electric.

They were joined by hand-picked subject matter experts from the US and UK who presented real-world applications of ISA/IEC 62443, the world's only consensus-based automation and control systems cybersecurity standards.

The Summit brought in-person and online delegates together and allowed operators, service companies, regulators, and equipment providers to meet face-to-face to discuss relevance to respective supply chains, and where vulnerabilities lie. Attendees were also able to gain insight into better protection for themselves and their customers through a series of presentations, questions and audience participation.

Commenting on the success of the event, Claire Fallon, ISA Executive Director, said: "Attracting more than 120 in-person and online delegates to our first-ever UK event of this kind is a clear demonstration of the appetite which exists for learning and networking opportunities focused on cybersecurity in operational technology environments.

"Two additional ISA events are planned for 2023 in the US and Australia that will focus on digital transformation, cybersecurity, and other leading topics in automation. We look forward to returning to the UK in the future to ensure that we continue to share knowledge and advocate for standards-based OT cybersecurity practices."

The International Society of Automation (ISA) is a non-profit professional association of engineers, technicians, and management engaged in industrial automation. As the globally trusted provider of foundational standards-based technical resource for the profession, ISA strives to build a better world through automation. To find out more, visit www.isa.org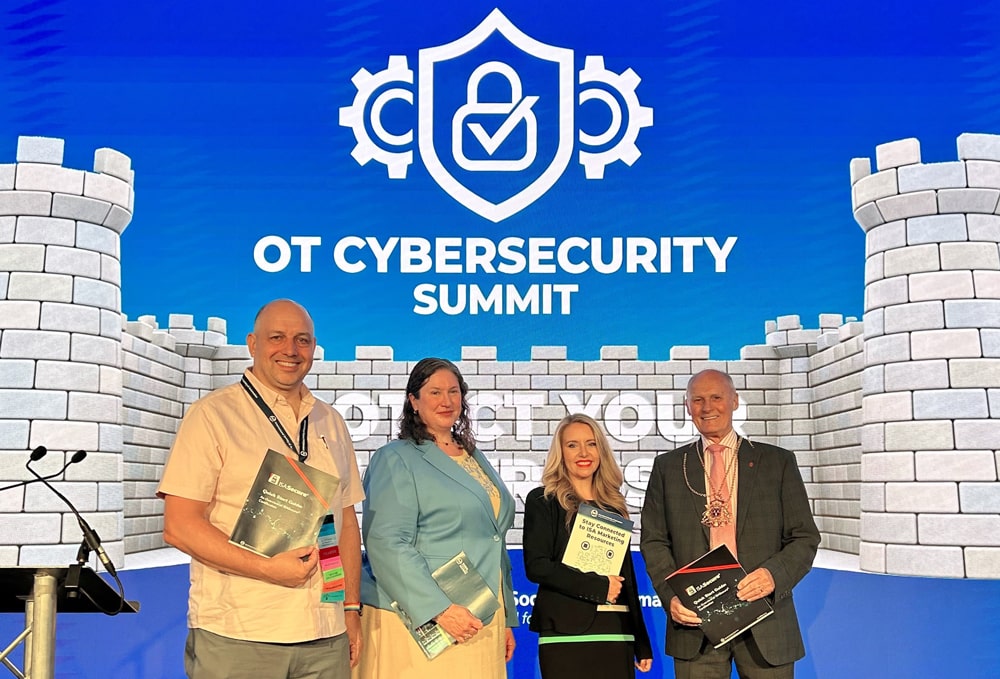 Pictured, from left: Steve Mustard (ISA Treasurer and ISA OT Cybersecurity Summit conference committee chair); Cheri Caddy (Deputy Assistant National Cyber Director, The White House); Megan Samford (Vice President and Chief Product Security Officer for energy management at Schneider Electric) and Dr David Cameron, Lord Provost of Aberdeen.
About ISA
The International Society of Automation (ISA) is a non-profit professional association founded in 1945 to create a better world through automation. ISA's mission is to empower the global automation community through standards and knowledge sharing. ISA develops widely used global standards and conformity assessment programs; certifies professionals; provides education and training; publishes books and technical articles; hosts conferences and exhibits; and provides networking and career development programs for its members and customers around the world. Learn more at www.isa.org.
About ISCI/ISASecure
Founded in 2007, the ISA Security Compliance Institute's (ISCI) mission is to provide the highest level of assurance possible for cybersecurity of automation and control systems. ISCI has been conducting ISASecure certifications on automation and control systems since 2011 through its network of ISO/IEC 17065 accredited certification bodies.
The Institute was established by thought leaders from major organizations in the automation controls community seeking to improve the cybersecurity posture of critical Infrastructure for generations to come. Prominent ISASecure supporters include Chevron, ExxonMobil, Saudi Aramco, Shell, Honeywell, Schneider Electric, JCI, Carrier Corp., Amazon Web Services, TUV Rheinland, TUV-SUD, Yokogawa, YPF, exida, GE Digital, Synopsis, Bureau Veritas, CSSC, DNV, FM Approvals, and others.
The Institute's goals are realized through ISASecure compliance programs, education, technical support, and improvements in suppliers' development processes and users' life cycle management practices. The ISASecure designation ensures that automation products conform to industry consensus cybersecurity standards such as ISA/IEC 62443, providing confidence to users of ISASecure products and systems and creating product differentiation for suppliers conforming to the ISASecure specification. Learn more at www.isasecure.org