End Users
ISASecure certifications provide transparency and assurances of product security capabilities.
Why Certification Matters
Our certifications reduce your risk, reduce your workload, and increase your peace of mind. With ISASecure certified products, you don't have to guess. You know can clearly and objectively understand their security capabilities.
Our certifications are based on the ISA/IEC 62443 standards, the most referenced OT cybersecurity standards in the world. And they are developed and maintained with input from multiple stakeholders, including end users, to ensure all of your needs are met.
CSA Certified Components
Components that have earned the ISASecure Component Security Assurance (CSA) designation.
SSA Certified Systems
Systems that have earned the ISASecure System Security Assurance (SSA) designation.
SDLA Certified Development Organizations
Development Organizations that have earned the ISASecure Security Development Lifecycle Assurance (SDLA) designation.
Procurement Language
Sample language for end users who desire to add ISA/IEC 62443 conformance as requirements in their procurement documentation.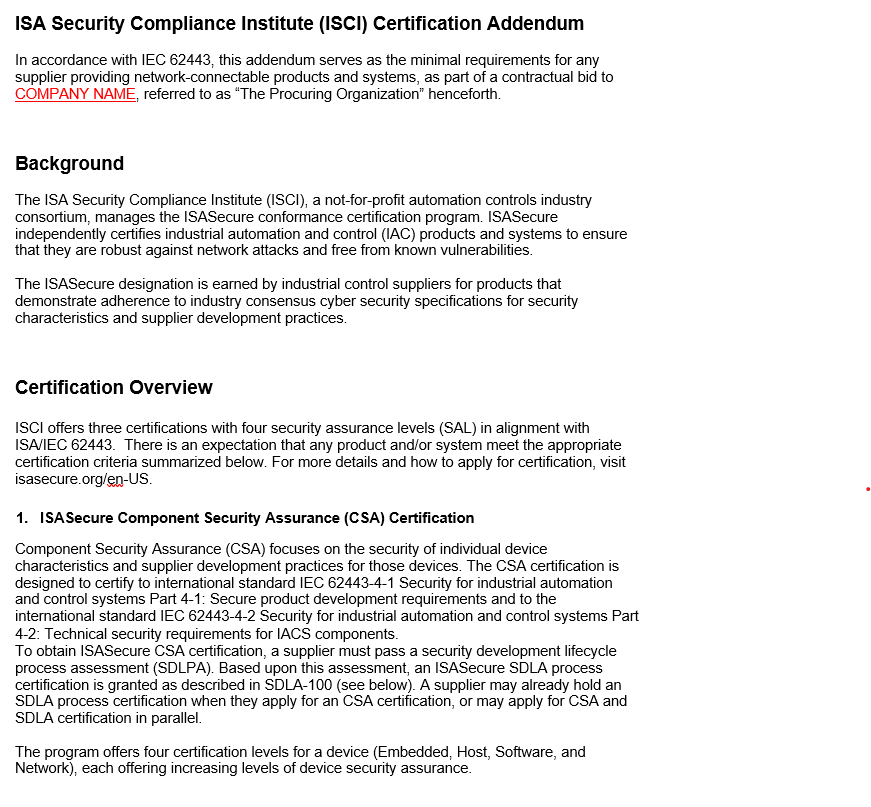 Interested in Getting Involved?
ISASecure membership provides you the opportunity to influence the certification specifications and the certification roadmap.