ISASecure ISA/IEC 62443 Site Assessment (ACSSA) Program: Industry Perspectives & Updates (December 5th, 2023 - 11 AM Eastern Time)
Since announcing the plans in Q2 2023 to establish an operating site cybersecurity assessment scheme aligned to ISA/IEC 62443, ISASecure has been hard at work developing the standard alongside key stakeholders from asset owners, certification bodies, and OT-specific industry stakeholders.

Join us for this exclusive webinar to meet with the program managers, directors, and SMEs actually writing the standard to hear firsthand what the industry can expect, including release dates, preparation documents, and upcoming training opportunities.

Webinar Details

Date: Tuesday, 5 December 2023
Time: 11 a.m.–11:45 a.m. EDT U.S.
(8:00 a.m.–8:45 a.m. PDT U.S.)
Price: Free!
Format: 30-minute presentation followed by a 15-minute Q&A session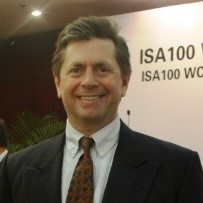 Andre Ristaino, Managing Director, Global Alliances and Consortia, International Society of Automation
Mr. Ristaino is the Managing Director of Global Alliances and Consortia for the International Society of Automation (ISA) based in RTP, North Carolina. Starting in 2007, Mr. Ristaino developed ISA's conformance certification programs including the ISASecure control systems cybersecurity certification program that certifies automation and control system products to the IEC 62443 series of international standards.

Mr. Ristaino directs ISA's consortiums and alliances, including, ISA Security Compliance Institute, ISA Wireless Compliance Institute, ISAGCA, LOGIIC, FCG collaboration, OPAF collaboration, FDT collaboration, and Fundacion Chile.
Ted Gutierrez, CEO and Co-Founder, SecurityGate
Ted Gutierrez is the visionary CEO and Co-Founder of SecurityGate, the provider of the market-leading SaaS Platform for OT cyber improvement. He is passionate about protecting what matters across operational sectors by aligning industrial cyber teams on their cyber improvement journey. With his extensive background as a compliance and risk auditor for critical infrastructure, he knows the pain associated with effectively maturing organizational resilience in a decentralized ecosystem. A graduate of the United States Military Academy at West Point, Ted is a battle-hardened veteran of the US Army and a seasoned reconnaissance and surveillance expert.