ISA Global Cybersecurity Alliance (ISAGCA): What is it and What's the Status after 12 months?
Participants will learn about the many cybersecurity initiatives at the International Society of Automation; with emphasis on a new collaborative program (ISAGCA) whose mission is to secure automation that affects our everyday lives. ISAGCA's members drive four broad cybersecurity initiatives using the ISA/IEC 62443 international cybersecurity standards, including:
Awareness and Outreach
Advocacy and Adoption
Compliance and Prevention
Training and Education
The ISAGCA recognizes the value of the ISA/IEC 62443 standards as the basis for securing automation and control systems (OT). ISAGCA's programs are intended to accelerate adoption of the cybersecurity practices through education, training, collaboration, and awareness. The group is developing how-to guides, white papers, formal training and, software tools to make the standards practical, easy-to-understand, and useful by non-technical practitioners.
Learn about our program for engaging regulatory agencies and government to ensure that they are aware of the standards and how they can be used as references for securing automation and control systems.
Please attend to hear about the status of the ISAGCA after 12 months of operations, goals already achieved, projects underway and, how you can benefit by being engaged with the ISAGCA.
View the Webinar Here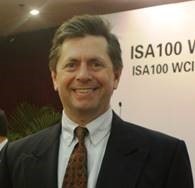 Andre Ristaino, Managing Director,ISA Security Compliance Institute
Mr. Ristaino is the Managing Director of Global Alliances and Consortia for the International Society of Automation (ISA) based in RTP, North Carolina. Starting in 2007, Mr. Ristaino developed ISA's conformance certification programs including the ISASecure control systems cybersecurity certification program that certifies automation and control system products to the IEC 62443 series of international standards. Mr. Ristaino directs ISA's consortiums and alliances, including, ISA Security Compliance Institute, ISA Wireless Compliance Institute, ISAGCA, LOGIIC, FCG collaboration, OPAF collaboration, FDT collaboration, and Fundacion Chile.

Mr. Ristaino is an international presenter on the IEC 62443 standards and control systems certification. He is an invited expert to the ERNCIP in support of the EU control systems cybersecurity certification initiative, an advisor for an ORNL research project on malware in the bulk electric distribution network, an invited presenter on cybersecurity and wireless technology at ARC Forums and, has published articles in the ISA InTech magazine. Mr. Ristaino is collaborating with NEMA and the US DoD in standing up a facilities certification program for certifying building management systems based on the ISA/IEC 62443 standards.
Prior to ISA, Mr. Ristaino held positions at NEMA, Renaissance Worldwide and, Deloitte & Touche Consulting's Advanced Manufacturing Technology Group where he was a recognized leader in system lifecycle methodologies. Industries served include state and local government, utilities, USAF-LC, discrete manufacturing and, pharmaceutical and FDA regulated manufacturing sites.

Mr. Ristaino earned a BS in Business Management from the University of Maryland, College Park and an MS in Computer Systems Applications from the American University in Washington DC with a focus on expert systems and artificial intelligence. Mr. Ristaino holds an APICS CPIM certification.